Eat in the bistro or grab a snack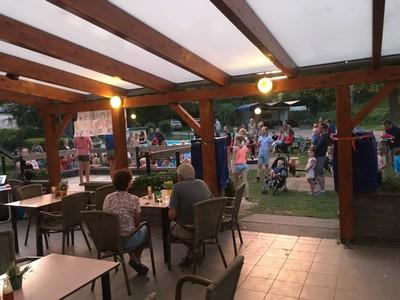 At the campsite there is a bistro, a café, a chip shop. In the bistro you can enjoy good food at friendly prices. When you arrive, you can enjoy a delicious schnitzel, steak or medallions of pork tenderloin with chips and a salad. A sorbet, Lady Blanche, Irish coffee are also among the options in the bistro. You can enjoy this in the bistro or on our covered terrace. In the café you can enjoy a drink and music in the evening. You can also play billiards or a map.
The chip shop is open in high season. There are fries with snacks to take away or to eat on the picnic tables in the chip shop.
Fresh warm rolls at the campsite
In the morning you can enjoy fresh bread, which you must order the day before. There is also a shop with a limited choice of food. For daily shopping there is a supermarket in Larochette or an Aldi, Lidl and a large Cactus supermarket in Diekirch.
Menu of Camping Neumühle